Here in the good olde US of A we're just getting into spring and 2010 has me rather excited.
I'm finally making headway on my cars; and finally getting my to do list organized.
I have new direction for the 99 Audi A4. Keeping it drivable for daily life and comfortable for long hauls. I've already gotten started with it with new brakes and a new new diverter valve.
As for the Golf , I've been working on it just a little at a time. I got a new head for it and got it swapped in, however, a camshaft stud has got me on hold for now. But as soon as I get a new set
of studs for it I can proceed with the Techtonics Tuning 272 cam. As soon as that's in the timing needs done and I can drive it again!!!!!!
All I want is to drive it again. Then I'll take it to the next level.
Update: 272 cam is literally sheared in half...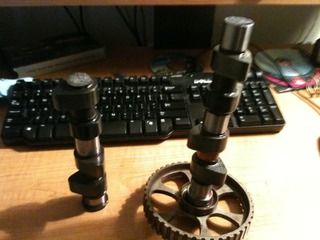 Upadte 2: I took the Golf over to Global Garage to finish up as I ran out of time before moving to the new apartment. I opted to have Jeff @ GG to finish the car which ended up needing a few more things. Thankfully, she's running strong again just in time for the Eurovagens AutoX season to start.